Steven Pemberton
---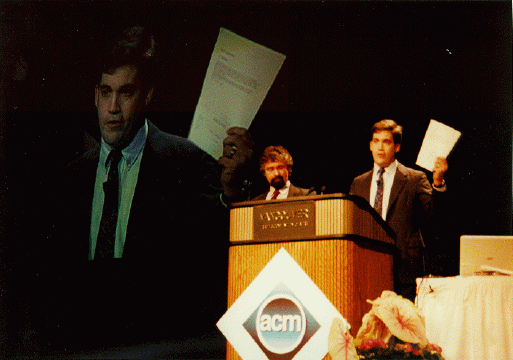 Kevin Schofield is a Group Program Manager in the Internet Platform and Tools Division at Microsoft.
How did you come to get involved with SIGCHI, the conference, and with the post you filled?
I first got involved with CHI conferences by volunteering on the CHI 90 local arrangements committee, doing various odd jobs and running the information booth. Since then I've volunteered in various capacities for CHI 91, 92, INTERCHI 93, and CHI 94. In the autumn of 1993, the Vice Chair for Conferences asked me if I was interested in talking to the SIGCHI leadership about co-chairing a CHI conference.
What was the state of things when you started with CHI 96?
We started on CHI 96 in March of 1994 -- over two years before the conference. CHI 94 was a great conference, but it was also a very expensive one -- that's due to the cost of holding a conference in Boston. Also, it was clear that there were some deep divisions in the HCI community -- between researchers and practitioners, between academia and industry, the approaches to HCI taken in different regions of the world. CHI 94 focused on appreciating our diversity as a community, but somehow that wasn't enough. We needed to take the next step: to look beyond simply acknowledging our differences to find ways that we can work together. And last, the CHI conference had grown additional activities by accretion, to the point where attending could be completely overwhelming.
What was your vision?
First, we wanted to focus on integration, on how we can learn from each other to move our field and our community forward; thus was born our conference theme -- "common ground". Second, we wanted to "downsize" the conference events a bit, so that there were fewer concurrent and redundant activities. Third, we wanted to try to make the conference more affordable.
What was your experience as a whole?
Overall it was a great experience! I was given the opportunity to act as CEO for a company with a two million dollar budget. I got to help define a product, determine positioning and marketing strategies, and to watch it come together. And beyond that, it was tremendously exciting being the caretaker for such an important resource for our community. It was an enormous amount of work, essentially a second job for two years. But it was well worth it.
What were the highlights for you?
There are so many. The CHIkids program is definitely one of my favorites. It was amazing having all of those sharp children together, so intense and involved in the activities. I also have fond memories of personal conversations with the plenary speakers, Herb Clark and Betty Edwards. They are both such warm and genuine people -- it was an honor to meet them and to spend time with them. I think the funniest moment was when I came upon Herb Clark and Ben Shneiderman at the conference reception. They were discussing anthropomorphism and agents -- and agreeing. That's right, they found their "common ground!"
What would you have done differently?
Organizing a CHI conference is an enormous undertaking, and there are a million little details which all need to be taken care of. One always wants the conference to be perfect for everyone, but there are always things that go wrong. One particular difficulty is in making the conference equally accessible and appropriate for an international audience. It's impossible to anticipate all of the possible cultural interpretations of every little decision, so it's almost inevitable that some of the 2400 people who attended CHI 96 were going to be offended by something at the conference. That was very discouraging to me. I'd like to go back in time and fix some of our inadvertent mistakes.
What are you going to do now that it is all over?
I'm going to spend a lot more time with my family. It was a great experience and I'm honored that I was given the opportunity to do this, but no one ever goes to the grave wishing that he or she had spent more time at the office. My family has been very supportive through some strenuous times. I feel that we as a community haven't done enough to acknowledge the contributions of our families as we all struggle to gain credibility for our field.
Michael Tauber is a member of the HCI group within the Department of Mathematics and Computer Science of the University of Paderborn (Germany)
How did you come to get involved with SIGCHI, the conference, and with the post you filled?
The first CHI I ever attended was CHI'90 in Seattle. I was then European Coordinator for CHI'92 and did the same job for INTERCHI'93. I also volunteered as a paper reviewer and short-paper reviewer for CHI'92, INTERCHI'93 and CHI'95.
In January 1994, Gene Lynch, the SIGCHI Vice Chair for Conferences asked me whether I would consider chairing CHI 96 and if yes to submit a summary of my past experiences of organizing conferences together with my vision for CHI 96. I submitted my vision and was appointed together with Kevin by the SIGCHI Executive Committee in the early spring of 1994.
What was your vision?
This is a very good question. Actually, since we had the opportunity to start so early, namely in March 1994, we worked very, very carefully on visioning. Kevin and I worked out a document containing the Co-Chair's visions together with explanations of why we regarded them as important for CHI 96. The visions were then discussed, refined and adapted together with all the Chairs visions in our committee.
One of my favorite visions is the following: the future of HCI lies in its power to integrate sub-field and cultures by a common set of general goals and basic concepts which allows also for dynamic changes in order to progress toward the ultimate goal to develop artifacts with and through which people can interact and communicate. This vision went into the conference theme -- "common ground". It was one of our primary goals that this conference should permeate everything -- submissions, work between the volunteers, invited talks, plenary talks and so on.
Another vision was to tailor the tutorial program more to the needs of people and how they want to have HCI education on different levels of experience and pre-knowledge.
We also wanted to increase international attendance at CHI. We wanted to improve the contact to the various national and regional communities we already had but we also set up the goal to involve new communities.
Finally, we wanted to make the technical program even more attractive than it was in the past.
What was the state of things when you started with CHI 96?
Although CHI is a big conference with many participants, the field of HCI was and is still rather diverse. We can see many different understandings and approaches in the different communities (different work cultures or different regions of the world). We also could observe new fields originating from HCI (e.g. CSCW) but showing a tendency to drift away from HCI. Other fields like Multi-Media need much more HCI focus than they have at the moment. These few examples show the need for careful consideration, reflection and re-thinking of the goals and basic concepts of HCI.
What was your experience as a whole?
This was a fantastic experience! It was a big management challenge, especially to support all the volunteers in our committee in such a way that they could do their job in the best way possible. For me, it was exciting to see that we were able to work together in an extremely well organized way which, of course, was one of the keys for the big success of the conference. This style of working together -- by the way, not only with the volunteers but also with the professional staff and ACM staff -- helped us tremendously to make many of our visions happen.
The amount of work was enormous and due to the different time zones it was quite often work done deep in the night. However, it was a great experience and I liked it.
What were the highlights for you?
I cannot list all of them, because there are so many. Before the conference, I very much liked the style in which we cooperated in the committee, with the professional staff and with ACM. There were so many people involved from different work cultures and regions of the world and it worked so well.
The tutorials program was a big success in terms of quality and attendance. The CHIKids program was new and in my understanding very successful. The CHIKids Newsletter was a great source of information about the conference through the eyes of the kids. The plenary talks were of high quality.
As a whole, the technical program was of excellent quality and it was well received. And an excellent technology support made all this possible.
Also the Commons were a great place to meet. There were lots of opportunities to explore the "common ground".
How many people came?
A little over 2400, from almost 30 countries.
What would you have done differently?
Of course, there are many hopefully small mistakes I made during the whole process of planning. As always, when looking back you feel that you should have done something different or better.
CHI as such is like a small enterprise and many processes are complex and resource intensive. Sometimes we are reaching the limits of time and work load volunteers can spend for time. Publications, for example, is such a process and we have to think about doing better than we did.
This shows that there are of course many things we could do better but we are part of a community of volunteers and professionals so we have to work together to do things better and we can not change anything just from today to tomorrow. It's a process of learning and improving together.
What are you going to do now that it is all over?
I am going to spend more time on my students and research at my university. The generosity of my university has allowed me to do the job as CHI 96 Co-Chair in a way which still gave me some time for my family. However, they still missed me sometimes. On the other hand my family has given me great support in these challenging 2 years.
So, it will be a quieter time in the coming months allowing me to focus again more on my family, work and myself.