Chemical War Babies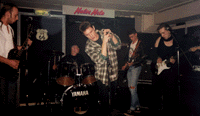 The continued story of the return of the second coming of the Chemical War Babies
Okay, we are taking the meaning of "a single reunion gig" to new heights. We will play at Maloe Melo in Amsterdam, on August 20 (2003, that is, in case we don't update this page again for a couple of years), with Whittlesea and Sexbomb Nagasaki. Doors open at 21.30, gigs 22.00 until late.
History
Chemical War Babies are an Amsterdam-based band who play music with references to punkrock, sixties thrash, rythm'n'blues and more. Names? Hmm, think of Iggy and the Stooges, MC5 or Nomads, but with a nineties sound.

The band got started early in 1995, when Karel and Martin joined the other three. The band has played under various names, Lovecraft and Super Kanker Mario en the Tering Turtles among them, but it appears that the name Chemical War Babies is here to stay.
The Music
Here are a couple of songs from our last regular gig, back in 1998. RealAudio is good enough for listening online, mp3 is better for downloading.

The members
| | | | | |
| --- | --- | --- | --- | --- |
| | | | | |
| Martin Palmer | Guus Bos | Karel Palmer | Jack Jansen | Robert Moorman |
| guitar | drums | singer | bass | guitar |

Contact Information
You can contact us by writing to

  Chemical War Babies
  c/o Jack Jansen
  Bilderdijkstraat 146
  1053 LA  Amsterdam
  the Netherlands

Or you can send Email to Jack, jack@cwi.nl.

Varia
Most of the member have other musical activities. Robert plays in Rise of Realism (medieaval lyrics accompanied by metal-house) and Thorny Crown (wave-rock), Jack plays in Uit de Sloot (dutch-language 77-style punkrock).

For other interesting punkbands in the Netherlands, check out Dred's Dutch Punk Net page, which has lists of gigs, hotlinks to bands and much more. Also check out Michaels Dutch Bands Page for a more general listing of dutch bands.

.




Jack Jansen, 10/02/98