Michel Mandjes
Full professor in Applied Probability, Korteweg-de Vries Institute for Mathematics, University of Amsterdam
Scientific Advisor, Eurandom, Eindhoven
Guest researcher, CWI, Amsterdam
---
Resume and publications
Find here my full CV, also containing a year-by-year publication list.
If you want to have a copy of one of my papers, please let me know! My email address is m.r.h.mandjes@uva.nl.
Many of my papers can be found on [Publications CWI Michel Mandjes].
---
Vacancy

At the University of Amsterdam we now and then have vacancies for PhD students.

Preferred background: M.Sc. in mathematics (applied probability) or operations research. Interested candidates can contact me at m.r.h.mandjes@uva.nl.
---
Book
M. Mandjes (2007). Large Deviations of Gaussian Queues. Wiley, Chichester, UK.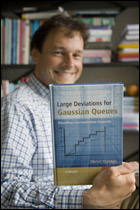 ---
About me
---
[ Michel Mandjes (coordinates) | Korteweg-de Vries Institute, University of Amsterdam| CWI | EURANDOM]
---
Last modified: November 20, 2010.