Lit Lace
Steven Pemberton and Jack Jansen CWI, Amsterdam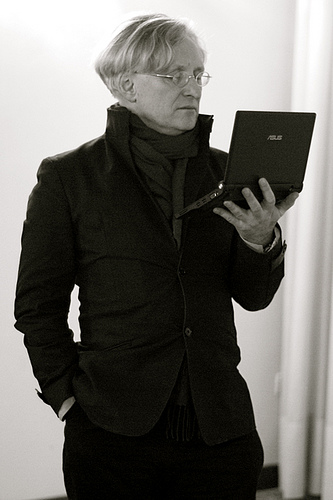 Contents
Lit Lace
A project bringing Sara and Sarah, two UK smart textile designers, together with CWI to design and build an innovative lighted fabric. Partially funded by the EU Worth project.
We came together after a symposium on sensors, fabrics and the internet of things at the RCA in London.
CWI
A research institute in Amsterdam for research in mathematics and computer science.
We are from the Distributed & Interactive Systems Group, that does work in human-computer interaction, multi-media, sensors, internet, internet of things etc.
Example: Sensing the audience
The audience at a performance were fitted with sensors, that fed their level of attention back to displays at the front of the room.
Tangible Air (3 mins 15)
Example: Distributed Theatre
A play performed at two separate locations, joined with networked visual displays.
Tempest (2 mins)
Example: Amsterdam Dance Event
Attendees at an event got a fashionable armband as they entered. These armbands contained sensors that communicated heartbeat, temperature, movement, position. This data was used to drive a visualisation of the event on large displays.
https://vimeo.com/207076621 (First 2 mins 30 of 8 mins 15)
Internet of Things
We at CWI are designing an architecture for bringing together diverse internet of things devices to make them look similar, and make them appear to be operated in a similar way. We are using part of that architecture in building the Lit Lace prototypes.