The Internet Guide to Amsterdam
Designed to be printed out and taken with you.
Written by Steven Pemberton, CWI, Amsterdam, and Astrid Kerssens, Amsterdam.
Linked to by more than 450 other sites; more than 3,500,000 gruntled readers!
The top Amsterdam travel guide according to Google. If you know how Google works, you know that that says something about this site!
See also London.
A Review of this Guide
The Internet Guide To Amsterdam:
Rating: ★★★★★
Reviewed By: Jane Hoskyn
Sometimes, it's the simple things in life that make your heart skip a beat.
This is especially true when you're abroad and you need a guide that loads really fast on your mobile phone or PDA (check), doesn't involve clicking from page to page to find what you want (check), isn't written in fluffy tourist-board-speak (check), has all the links you need and none of the ones you don't (check), and is put together by someone who loves your destination and knows it better than the insides of his own eyelids (check). Step forward Steven Pemberton, creator of this exemplary guide to having a damn good time in the 'Dam.
---
Introduction
Amsterdam is an unusual city in that it has all the advantages of a big city – culture, history, food, entertainment, good transport – with relatively few of the disadvantages: it is physically small, beautiful, relatively quiet, and largely thanks to the canals, has relatively little traffic.
This guide tells you something about Amsterdam in the hope that it will improve your enjoyment while here.
Time
Amsterdam time in the summer is two hours ahead of GMT, one hour in winter; when daylight saving time is in operation the sun is at its highest point at around 13:40 (which makes for long evenings: since Amsterdam is very far West in its time zone, in mid-Summer the sky is still light as late as 11 in the evening).
In the dead of winter, the sun rises at 8:40 and sets at 16:30; in the height of summer it rises at 5:20 and sets at 22:05
Amsterdam is a late city: many shops don't open until 10 in the morning, and bars and cafés stay open till 1 or 2 in the morning.
Weather
Typical weather ranges from a little around freezing in the depths of winter, though usually with little snow, to typically pleasant sunny days of 20° to 25° Celsius in the summer. Spring and autumn are pleasant, but can be wet (100+ mm of rain per month). In the summer months there are typically 200 hours of sunshine a month, dropping to between 50 and 100 in the winter.
| | | | | | | | | | | |
| --- | --- | --- | --- | --- | --- | --- | --- | --- | --- | --- |
| | 30 year average | 2000 | 2001 | 2002 | 2003 | 2004 | 2005 | 2006 | 2007 | 2008 |
| ice days (max.temp. under 0°C) | 8 | 2 | 3 | 6 | 6 | 3 | 3 | 2 | 2 | 3 |
| frost days (min.temp. under 0°C) | 58 | 35 | 66 | 40 | 75 | 65 | 38 | 60 | 35 | 55 |
| warm days (max.temp. 20°C+) | 77 | 91 | 89 | 97 | 16 | 89 | 88 | 110 | 97 | 95 |
| summer days (max.temp. 25°C+) | 22 | 22 | 24 | 18 | 48 | 25 | 34 | 51 | 20 | 26 |
| tropical days (max.temp. 30°C+) | 3 | 2 | 6 | 4 | 11 | 3 | 4 | 13 | 1 | 1 |
Number of days in each temperature range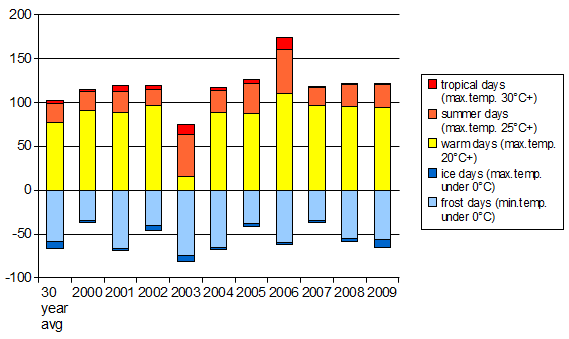 Average temperatures and rainfall recorded over 20 years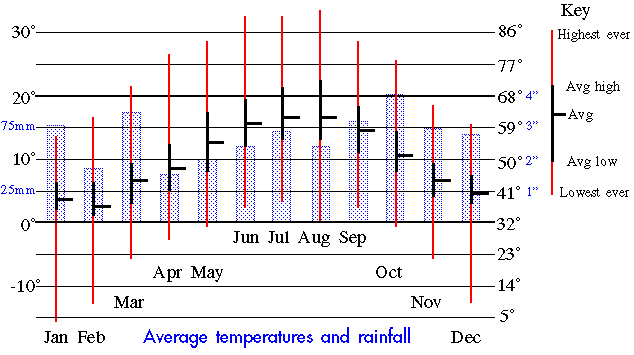 There are any number of sites willing to tell you what the weather is going to be in the next few days. Our current favourite is weather-forecast.com since it gives you a detailed forecast for each part of the day, morning, evening and night. (Here is a selection of the others to take your pick from: BBC, CNN, Yahoo, USA Today, Weather Underground, The Weather Network, Weather.com, KNMI (in Dutch), Intellicast, Travelocity.)
Animated radar maps of current rain conditions: Weerplaza (with thunderstorms and a prognosis for the coming hours), Meteogroup, Buienradar (with prognosis), Meteox (larger-scale)
Maps of current thunderstorm activity: Strike Star, Meteox.
An excellent satellite map of European conditions (animated version)
Language
Just about everyone speaks English in Amsterdam, and is proud of the fact. Many speak German and French too. If you are English speaking, speak English (unless you speak Dutch too): you are more likely to offend than do anyone a favour by trying out your French or German.
A common misconception is that Dutch is very close to German. In truth they are not mutually intelligible: Dutch people have to learn German at school, and in general they speak better English than German. German and Dutch are similar in the same sort of way that French and Italian are similar.
Money
The currency used in the Netherlands is the Euro expressed as EUR or €. There are 16 countries that form the Euro Zone: Austria, Belgium, Cyprus, Finland, France, Germany, Greece, Ireland, Italy, Luxemburg, Malta, Netherlands, Portugal, Slovakia, Slovenia, Spain. You can use the Euro in all these countries. (To remember the list of countries you used to be able to use the mnemonic phrase "Baffling pigs", but after Slovenia, Cyprus, Malta and Slovakia joined, there are the extra letters "CMSS").
Euros are divided into 100 cents. There are coins of 1, 2, 5, 10, 20 and 50 cents, and 1 and 2 euros. There are notes of 5, 10, 20, 50, 100, 200 and 500 euros (note the pattern 1, 2, 5). Some shops do not accept large denomination notes, and most don't accept the 1 and 2 cent coins, and so round cash amounts to the nearest 5 cents.
The Dutch Guilder is no longer usable. You have to exchange old coins and notes in a bank.
There are many places to change money in town. Post offices usually give the best rates. The GWK at Central station is also good. Compare rates carefully at the exchange offices in town. Hotels are usually an expensive way to change money. Banks can be slow. There's an American Express on the Damrak, and a Thomas Cook on the Dam.
However, you shouldn't need to change money: if you have an ATM card (a card for getting money out of a machine in the wall) it will most likely work in the Netherlands (indeed throughout Europe), so you don't need to take traveller's cheques. Check with your bank before leaving though. Such cards, certainly if they have a Maestro logo on them, can often also be used for direct debit payments in shops (shops that display the blue "PIN" sign, which is almost all shops).
The current exchange rates are online, in Dutch but you should be able to decipher it. "Verkoopt" = Sell, "Koopt" = Buy. Prices given are the Euro price for the quoted currency. Click on ">>" at the top of the page to go to subsequent pages.
Credit cards are not as widely accepted in the Netherlands as in many other lands, but it's getting steadily better. Always enquire first if you want to pay by credit card.
Tipping
All prices in the Netherlands by law include tax and tips: the price you see is the price you pay. Normal Dutch practice in restaurants is to round up to some whole number of euros, so that the tip is about 5%. Don't feel obliged to leave a tip. If the bill says "service not included" they are just trying to rip you off. You don't need to tip in taxis either betond rounding up.
Electricity
Dutch Electricity was 220 volts, and then moved at a rate of 1 volt per year to the European standard 230 volts. The plugs are the fairly standard European two-pin model.
You can buy voltage and plug converters at Aurora, on the Vijzelstraat at the end of the Flower Market, near the Munt Tower.
Safety and Health
Amsterdam is a safe city, and there is nothing to fear from walking in any part of the city. Even in the red-light district around the Oude Kerk, there are always lots of tourists wandering around. As in any large city you should beware of pick pockets. Don't try to photograph the women in the red-light district though, since it might be risky.
The water from taps is very high quality, and therefore perfectly drinkable.
Hotels
The best online booking service we have seen to date is Bookings. Especially good is the ability to see where the hotels are positioned on a map of Amsterdam.
Here is a list of hotels sorted by district and rating.
"Bed and breakfast" doesn't really occur much in the Netherlands, and certainly not much in Amsterdam, budget hotels being the usual low-cost lodging. However, Google has a directory of bed and breakfast in Amsterdam, and a search for bed and breakfast in Amsterdam yields some hits.
Eating and Drinking
It rains less in Rome, but Amsterdam has more cafés. So went the advert in the city once. Of all the things Amsterdam can offer, a wide choice of food and drink must stand high on the list.
Restaurants
There are more than a thousand restaurants to choose from in Amsterdam, and a complete list would, and does, fill a whole book, so we can only hope to give you some recommendations here. Not surprisingly, most restaurants are in the city centre, and just walking there you will pass many of high quality. There are particularly many restaurants around the Leidseplein.
The Dutch typically go out to eat as an activity in itself. Therefore there is no rush to eat and get going. Servers respect this and will often leave you to eat in peace. In particular it would be very rude for a server to bring you the bill without being asked first. You should always ask for your bill when you want it.
All the restaurants mentioned here are in the centre and offer vegetarian dishes. We give the name, address, district, telephone number, closing time where known and typical price, again where known. We mention if they do not accept credit cards when known.
Dutch
When the Dutch go out to eat, they don't go to eat Dutch food. Consequently there are very few places that serve Dutch cuisine. Pancakes are a typical Dutch fare, and tasty and filling. See The Pancake Bakery below under Budget. For restaurants that serve the sort of food you might eat in a Dutch home, see De Blonde Hollander below, also under Budget, and:
D'Vijff Vlieghen, Spuisstraat 294 (Spui), 5304060, €25. "New Dutch Cuisine" in a charming row of 5 historic houses joined in a maze of little stairways.
Budget
Many bars have inexpensive meals until 21:00 for less than €20. See also under cafés below.
De Blauwe Hollander, Leidsekruisstraat 28 (Leidseplein), 6233014, 22:00, €11.

Real Dutch food!

The Pancake Bakery, Prinsengracht 191 (Westerkerk), 6251333, 21:30, €9.

Good atmosphere. Cheap, delicious and filling sweet and savoury pancakes.
International
Hemelse Modder, Oude Waal 9 (Old Centre), 6243203, 22:00, closed Mondays, €30 for 3 courses.

Stylish cooking.

Kapitein Zeppos, Gebed Zonder End 5 (Near the Nes), 6242057, 22:00, €20.

The restaurant is off a tiny alley, off a small street off the Rokin. It has a roof that rolls back, so is especially pleasant on warm evenings.

De Luwte, Leliegracht 26 (Westerkerk), 625848, 22:00, €20.
Chinese
Nam Kee, Zeedijk 111 (Nieuwmarkt), 6392848, 11:30-24:00, €20; No CC

More like a canteen than a restaurant; about as authentic as they come.
French
Côte Ouest, Gravenstraat 20 (Dam), 4272502, 24:00 (kitchen until 22:00), closed Mondays; €20.

Normandy-style food, in one of the best locations in Amsterdam, right behind the church on the Dam, and very reasonably priced.

De Belhamel, Brouwersgracht 60 (Beginning of Herengracht), 6221095, €23.

Art-deco ambiance, beautiful view over a main canal.

Van Harte, Hartenstraat 24 (Westerkerk), 6258500, 23:00; €23

Pleasant restaurant in one of the "Nine Streets".
Greek
De Twee Grieken, Prinsenstraat 20 (Westerkerk), 6255317, 23:00; €20.

Informal, and authentic
Indonesian
Orient, Van Baerlestraat 21 (near museums), 6734958, 21:15, €25.

Rijsttafel (rice table) restaurant; loads of small dishes together; take the regular rice table, don't bother with the special one, since it will be more food than you can manage.

Kantjil en de Tijger, Spuistraat 291, 6200994, 23:00; €22.

Busy atmosphere. No-nonsense food.
Italian
Cinema Paradiso, Westerstraat 186 (Jordaan), 6237344 (no reservations except for large groups), 23:00 (Tues-Sun), € 25.

Spacious and light, though a little noisy, in an old cinema.

Toscanini, Lindengracht 75 (Jordaan), 6232813, €18.

Burgers Patio,Tweede Tuindwarsstraat 12 (Jordaan), 6236854, 24:00, €15.

Italian-style cuisine. Tables in a garden and on the street as well. (They don't serve burgers: it is a surname.)
Japanese
Tokyo, Spui 15, 4897918, 11:00-22:30, from €25.

Grand café restaurant with 4 floors each serving a different style of Japanese food. Excellent quality, reasonable prices.
Mexican
Pacifico, Warmoesstraat 31 (Red-light district), 6242911, 17:30-24:00, €15.

Rose's Cantina, Reguliersdwarsstraat 38 (Flower Market), 6259797, 23:00, €14.

Crowded, good portions. If you know of anywhere in the world that makes better margaritas (on the rocks, not frozen) we'd like to hear about it.
Portuguese
Portugalia, Kerkstraat 35, 625 6490, 24:00, €15.
Spanish
Centra, Lange Niezel 29 (Red-light district), 622 3050, 23:00, €10.
Culinary
Bloemgracht,Bloemgracht 47, Jordaan; 620 2088, 18:00-22:00, closed Sunday and Monday; €35 for a fixed-price three-course menu.

Bordewijk, Noordermarkt 7, Jordaan; 624 3899, 18:30-22:30, closed Sundays and Mondays, from €39 for a fixed-price menu, but pricey a la carte.
Vegetarian
De Bolhoed, Prinsengracht 60 (Jordaan), 6261803, 22:00, €15.

Daily-changing set-price menu.

Vliegende Schotel, Nieuwe Leliestraat 162 (Jordaan), 625 2041, 22:45, €10.

A simple vegetarian café with good food.
Unusual locations
In an amazing middle-ages Weigh-House. Recommended.
In the former 1st Class waiting room at Central Station; in grand turn-of-the-century style.
In a former shipping line office, now a listed building. Some tables with dramatic harbour view (ask for a table in the serre when you book). Vegetarian dishes by arrangement.
Built on top of the last remaining revolving train bridge, just behind Central Station (exit from the back of the station, turn left and follow the water until you see it in front of you, perched in the middle of the water). Good food, nice ambience, reasonable prices.
Very big, floating Chinese temple.
Restaurants where you can eat outside (in nice weather)
Many restaurants have a terrace where you can eat outside, or have tables on the street. When the weather is very hot (above 25°C), the rules change and just about every restaurant moves on to the street. However, the following have pleasant outdoor tables when the weather permits (they are all listed either in the restaurant list, or in the café list): Molenpad, Roses, De Waag, Duende, De Reiger, Burgers Patio.
Cafés and Bars
These are everywhere. We only list here some exceptional and interesting ones.
There is little distinction between a café and a bar in Amsterdam. Both sell alcoholic and non-alcoholic drinks, food and coffee. The kitchen in a bar or café usually closes at 21:00.
A very nice property of Amsterdam, that you certainly don't find everywhere, is that you pay the same price wherever you sit; it doesn't cost more to sit outside on the terrace.
Coffee is served Hollands with evaporated milk, espresso, cappuccino, and verkeerd ('reversed'), which is with lots of hot milk (the Dutch version of a Caffee Latte).
Beer-lovers should try a witbier (white beer) like Hoegaarden or Dentergems, with or without a slice of lemon.
The Dutch invented gin (it was introduced to England when William of Orange became king in 1689, and spread from there); it is called Jenever after the Dutch word for juniper. There are two types: Jong (young) which is the closest in taste to gin, and normally drunk neat and very cold, and Oud (old).
The Dutch also invented Brandy (Brandewijn means 'burnt wine') which they call "Vieux" (Yes, the Dutch call it by a French name and the French call it by a Dutch name).
There are three micro-breweries in Amsterdam Brouwerij 't IJ in a windmill just outside the centre (with a bar, and large terrace in the Summer), De Bekeerde Zuster (formerly Maximiliaan) in the heart of the red-light district (actually as part of a bar), and De Prael (no bar, but they do keep a list of bars that serve their beer).
There is one remaining distillery in Amsterdam, A. van Wees De Ooievaar, that makes a truly astonishing range of traditional Old Dutch and Amsterdam spirits and liqueurs (around 200 of them), many of which you will never have heard of. Founded in 1782, and still family run, it is open for visits Monday and Wednesday 9:30-12:00, Driehoekstraat 10 deep in the Jordaan. You can try their products at the De Admiraal, Herengracht 319.
You can drink beer and wine from age 16, and spirits from age 18.
Amsterdam is a paradise for beer drinkers, but alas the wine drinker is usually left with a 'choice' between red and white. (It is surprising that a nation known as a nation of traders could leave such a segment of the market uncatered for.)
For a fuller description of Amsterdam bars, see the Amsterdam Pub Guide.
We give here the address and district, plus opening times where known. Amsterdam is of course renowned for its brown cafés: small, dark and cosy. Good examples are also mentioned here.
De Blincker, St. Barberenstraat 7 (off Nes).

Delightful combination of light, plants and high-tech in the theatre district. Closed Sundays.

Hoppe, Spui 18-20, 11:00-01:00.

A favourite with business people, especially on the way home from work.

Luxembourg, Spuistraat 22 (Spui), 10:00-01:00.

Trendy up-market

De Reiger, Nieuwe Leliestraat 34 (Jordaan), 11:00-01:00.

Popular brown bar in the Jordaan with a good restaurant.

't Smalle, Egelantiersgracht 12 (Jordaan), 11:00-01:00.

The name means "The Narrow". Guess why. Has a popular seating area outside next to the canal, and a cosy room upstairs. They understand the needs of wine drinkers.

De Tuin, Tweede Tuindwarsstraat 13 (Jordaan), 10:00-01:00.

Popular; good cappuccino; evenings are packed.

Het Molenpad, Prinsengracht 653, 12:00-01:00.

Canal-side brown café and good food too. Nice terrace by the canal on warm evenings.

Van Puffelen, Prinsengracht 377, 14:00-01:00.

Café and food. Some people's favourite restaurant.

Tisfris, St. Antoniesbreestraat 142 (near Waterlooplein), 10:00-01:00.

Hi-tech split-level bar, wholesome food.

Huyschkaemer, Utrechtsestraat 137, 12:00-01:00.

Excellent food.

Schiller Bar, Rembrandtplein 26, 16:00-01:00.

Art-deco reminder of how things used to be on the Rembrandtplein; excellent restaurant as well.

De Jaren, Nieuwe Doelenstraat 20 (near Munt Tower), 10:00-01:00.

Grand café with popular riverside terrace. Food upstairs.

Land van Walem, Keizersgracht 449 (Leidsestraat), 9:00-01:00.

Early designer bar with excellent (veg.) quiches.

Morlang, Keizersgracht 451 (Leidsestraat), 10:00-01:00.

Stylish. Next to Walem (see above); snack kitchen.

Café Americain, Leidseplein 28, 06:00-01:00.

It's a hotel, it's art-deco, it's a restaurant, it's a listed monument. The service can be dreadful, but it's worth a visit.

De Balie, Kleine Gartmanplantsoen 10 (Leidseplein), 16:00-01:00.

A combination of culture and café.

In de Wildeman, Kolksteeg 3 (off the Nieuwzijds Voorburgwal, centre)

Huge selection of specialist beers.
Proeflokalen (tasting rooms)
In the 17th and 18th centuries Amsterdam was the centre of the European spice trade, and out of this grew a tradition of distilling 'medicinal' spirits, that developed into a full range of liqueurs. The proeflocalen specialise in these alcohols, and they have a disturbingly large range of traditional liqueurs that you will never have heard of. Ask for recommendations.
De Admiraal, Herengracht 319 (Dam-Spui), 6254334, 17:00-24:00.

Cosy, with settees and armchairs, and barrel architecture. Features the liqueurs and spirits of the Amsterdam distillery A. van Wees De Ooievaar.

De Drie Fleschjes, Gravenstraat 16 (behind Nieuwe Kerk, Dam), 12:00-20:15.

Small. Features Bootz brand liqueurs.

Wijnand Focking, Pijlsteeg 31 (the alley to the right of the hotel Krasnapolsky on the Dam), 15:00-21:00.

Features own-brand liqueurs.
Transport
Amsterdam has superb public transport facilities. There are many trams, and good facilities for cyclists, like special bike lanes, and traffic lights for cyclists.
There is a national public transport information service: you say when and where you want to go, anywhere in the Netherlands, and they tell you how to get there. The telephone number is 0900-9292; it costs €0.70 per minute (with a max of €14), though in our experience the quality of the service is variable, especially considering how much you end up paying for it. Better then is to use their website with a form where you can fill in the start and end points of your journey, and it will work out a number of routes for you. They also have a site for mobile devices at www.9292mobiel.nl.
Public Transport Card
To travel on public transport you use a public transport card, called in Dutch OV Chipcard. (These are replacing the old strippenkaart which you may know of if you have visited before.) The OV chipcard is an electronic card that you charge up with money before you travel, and then swipe over readers when you get in and out of a bus, tram or train. In principle it works nationally, so you can travel on the buses and trams all over The Netherlands, and with a bit of work also on the trains.
The OV chipcard is just being introduced, so it has some teething troubles. In particular, the OV Chipcard website is truly terrible, switching appararently at random between Dutch and English, and not really answering questions, and the GVB site (the local transport company) is barely better. So bear with us here as we try and explain it all in plain language.
There are three types of card: personal, anonymous, and disposable. Personal cards can only be ordered online by people who live in the Netherlands, so forget those.
Each person who is travelling must have their own card. Children aged 0-3 travel free, but children 4 to 11 can only travel at reduced rates using a personal card, so the children of tourists, we are sorry to have to say, have to travel at full price.
Anonymous cards can be bought at stations at the ticket office or vending machines (ones with a pink OV Chipcard sign), or at sales points of the local transport company GVB. It costs a non-refundable €7.50 to buy (plus whatever money you put on it, up to €30, but there has to be at least €4 on it before you can start a journey) and is valid for five years; it can be recharged at stations, tobacconists, and many supermarkets. A single journey on the trams in central Amsterdam will cost you something like 90 cents. Once you buy one at a vending machine, you need to go through the process of adding money to the card (on the same machine you bought it from); you can't buy a card preloaded.
Disposable cards can be bought at GVB vending machines, GVB sales points, or, easiest of all, on the tram. These are cards for fixed amounts of time and cannot be recharged: 1-hour €2.60, 2 × 1-hour €5, 24-hours €7, 48-hours €11.50, 72-hours (3-day) €15.50, 4-day €19.50, 5-day €23, 6-day €26, 1-week €29. The cards are valid for a year, and the time starts from the first moment you swipe the card over a reader and last for a fixed number of hours (so if you start using a week card at 10 a.m. on a Monday, it lasts until 10 a.m. the next Monday). You cannot use them on trains, and they (currently) are only usable in Greater Amsterdam.
To use a card, swipe it over the reader as you get in the tram or bus, so the reader beeps and shows a green light, and swipe it again as you get off. If you change bus or tram, swipe again; if it is within 35 minutes it is counted as the same journey. Don't forget to swipe as you get off, or your journey will appear to be very long, and therefore expensive. It is not clear to us whether you need to swipe the disposable cards when you get off, since they are valid for a fixed period rather than for a number of trips.; you certainly must swipe the 1-hour cards when you get off, otherwise you can't reuse them within the hour, but we don't know for the longer cards. To be on the safe side, always swipe them when you get off.
Trams
The best way to travel is by tram. They are frequent, fast and dependable.
You should hail a tram to indicate you want to get on. You get on in the centre of the tram. Press the button near the door to open it. You have to press one of the red STOP buttons inside the tram to indicate that you want to get off at the next stop (although there is rarely a stop where no one wants to get out). Again press the button near the door to open it when the tram has stopped. Don't forget to swipe your card before getting off.
There is a free map of all tram and bus routes in Amsterdam available from tourist offices or the GVB office in front of Central Station.
The trams run until just after midnight (the last trams leave Central Station at 12.15). After that there is an hourly service of night buses from Central Station.
Bicycles
The fastest way to travel is by bike. There are several addresses around town where you can hire (rent) a bike, for reasonable prices. Traditionally, Dutch bikes have no hand-brakes, but back-pedal brakes. If you think you can't handle this, be sure to ask the hirer for a bike with hand-brakes.
When cycling, cross tram lines at a good angle to avoid getting your wheel caught in the rail. For obvious reasons, lock your bike to something solid when leaving it unattended, and lock the frame, not just the front wheel (otherwise they unbolt your front wheel, take your frame and someone else's front wheel, and have a complete bike).
When hiring a bike, you will be required to pay a deposit, and you should take some form of identification. Addresses:
Bike City, Bloemgracht 68 (Westerkerk), 6263721
Damstraat Rent a Bike, P Jacobszoondwarsstraat 11 (Dam), 6255029.
Macbike, Leidseplein (next to Paradiso) 528 7688, Mr. Visserplein 2 (Waterlooplein), 6200985, and Central Station, 625 3845
Taxis
Taxis are normally not hailed in the Netherlands, but taken from a taxi rank, of which there are many (there is an environmental advantage to this: taxis aren't constantly driving round looking for custom). You can order a taxi by phoning 7 777 777 (seven sevens). A taxi will arrive almost immediately (though be prepared to wait if it is raining on a Friday or Saturday evening). Taxis are high quality but relatively expensive; around €1.50 per km regardless of day or time. You don't need to tip more than rounding up: they are already expensive enough. Some taxis serve Schiphol airport for a fixed price of €35 rather than running the meter; ask first.
Cars
Driving in Amsterdam is not recommended, especially for those inexperienced with the Amsterdam rules of the road. Even for longer distances it is far better to take a train. If you do need to hire a car, look in the Gouden Gids for addresses of the normal car hire firms ('Autoverhuur').
If you come to Amsterdam by car you will find that parking is extremely expensive (up to €5 per hour). The best solution is to park your car in one of the six P+R (Park and Ride) car parks on the edge of town. Look out for the P+R signs on the ring road as you come in to Amsterdam. These cost €6 per day for the first four days, and €16 per day after that (though if you drive out of the P+R and then back in, the clock restarts, and you go back to €6 per day). On top of this low rate, you also get a free public transport day pass for up to 5 people (or if you prefer, two bikes at the Sloterdijk and Olympic Stadium P+Rs). More details on the P+R site. Drive in to the P+R, taking a ticket from the machine, then go to the cashier's office and say you want to Park and Ride. One thing to watch out for: even if you are not planning to use the transport passes (for instance, because you've brought your own bikes), swipe the passes and keep them. For some bureaucratic reason, you only get the €6 rate if you hand back the swiped passes when you go to pay.
Trains
Trains in the Netherlands are fast, frequent, comfortable, punctual and reasonably priced. Many stations have a taxi-sharing scheme called "Train Taxis" which cost only €4.60: buy a Train Taxi ticket when you buy your train ticket.
You can buy tickets at machines, or at the ticket office, but at the ticket office they charge a 50 cent or €1 surcharge for regular tickets. There are two types of machine; one sort accepts cash and direct-credit bank cards (Maestro/Cirrus). but the other sort only accepts the bank cards. You can practise using the machines online. Choose "Full fare", not "Discount". Discount is for people who have a discount card which costs €99 per year.
Children under 4 travel free. Children 4-11 pay €2 per day: buy a 'railrunner' ticket. Older than 11, you pay full fare.
You can look train times up online at the Dutch National Railways (NS) site, and it will give you times, platforms and prices, though to be perfectly honest for international travel the German Railways site is better.
There are direct trains to Belgium (Brussels 2½ hours), France (e.g. Paris 4 hours), Germany (Cologne 2½ hours, Berlin 6 hours), Switzerland (Zürich 8 hours), and with one change you can reach places like London (5 hours, via the Channel Tunnel), Copenhagen (11 hours, the train actually rolls onto a boat), Prague (11 hours) and Vienna (11½ hours). Even Moscow is only 2 changes away (well OK, and 33 hours).
Walking
Central Amsterdam is very small: most distances are walkable, and walking is pleasurable, giving the best chance to appreciate the Amsterdam architecture. Beware of walking on bike paths, which are distinguished by their reddish colour: cyclists will show no mercy. Also take care when crossing roads, even at a green pedestrian light. Cyclists consider themselves pedestrians in Amsterdam, and so tend to ignore traffic lights. Note that in true European style, streets may change name along their length.
There are a couple of things worth knowing about Amsterdam street names. Firstly, the name is run together, so it will be Bloemstraat and not Bloem Straat; we have seen many backpacked travellers staring forlornly at a house in the Bloemgracht wondering where the youth hostel is, when they should have gone to the Bloemstraat. House numbers run from the centre of town outwards (so the lower numbers are closer to the centre) and anti-clockwise (so the lower numbers are on the left of the city). A dwarsstraat is a cross-street, and eerste, tweede and derde mean first, second and third. So Eerste Bloemdwarsstraat is a cross street of Bloemstraat (the first of three in this case, therefore the one closest to the centre). We see many people unsure of where they are because the street sign says Eerste Lindendwarsstraat but the map says 1e Lindendwarsstraat.
Amsterdam is, as you may have noticed, structured as a half wheel. In the middle you have the old centre bounded by the canal called the Singel. It contains the Red-Light district around the Oude Kerk, the Nes theatre street, a quaint maze of small streets and quiet canals, and the Royal Palace at the Dam, with pedestrian shopping streets Nieuwendijk and Kalverstraat going north and south.
Surrounding the old centre, you have the three concentric ring canals Herengracht, Keizersgracht and Prinsengracht (it can help to note that they're in alphabetic order). All four canals (with the Singel) are nice to walk along. The Herengracht is the grandest, especially along the 'Golden Crescent' to the east of the Leidsestraat, the Prinsengracht is perhaps the friendliest with its houseboats. The streets that connect the ring canals, especially the area called "The Nine Streets" in the section between the Brouwersgracht and the Leidsestraat shouldn't be missed for their lovely individual shops.
To the west of the ring canals, in the area on the map where the streets all run at an angle to the canals, is the Jordaan, a lovely area to walk, with quiet canals, and tiny streets, and many unusual shops. You'll find a lot of good restaurants and interesting bars there too.
Transport to and from the Airport
Schiphol airport is very close to Amsterdam centre. There are trains day and night, seven times an hour through the day, hourly in the dead of night, and which take about 15-20 minutes. A single journey costs €3.90. (Beware of the automatic machines at the airport: they have a single button that selects a single journey to Amsterdam Central, but it is a First Class ticket, so will cost €6.60. You are better off selecting your destination and ticket type yourself.)
Taxis take about 15 minutes, though beware of travelling in the rush hour. Some taxis charge a fixed price of €35 to the airport rather than running the meter.
By the way, Schiphol has been voted the best airport in the world several times, and not without reason: the shops there are great, and of a wide range, from drink and chocolates to fashions and electronics. You might want to leave yourself some extra time for shopping. Don't necessarily expect bargains though; only the articles marked as "special offer" are truly likely to be cheaper than street prices.
There is also a small branch of the Rijksmuseum that is worth a visit (between the E and F piers, open 7-20, admission free.)
If you want to know what to take back for people, Dutch chocolate and cheese are very good (in fact Dutch Edam and Gouda taste nothing like the stuff bearing those names in other countries). There are nice stoneware bottles of Dutch gin (jenever) in two types Jong (young) which is the closest in taste to gin, and Oud (old), and there is Dutch Brandy (Vieux).
Schiphol's Duty-free Shops are online (go to the Schiphol site, and click 'Shopping'). You can even order online and pick your goods up when you leave (click on 'reservation service' after clicking 'Shopping').
Traditionally, shops and markets are closed all day Sunday and Monday mornings. Normal shopping hours are 09:00 or 10:00 to 18:00 (17:00 on Saturday) although some are now beginning to stay open later in the evenings and about half of the shops on the main shopping streets are even open on Sundays. There is late-night shopping on Thursdays until 21:00, when most shops on the main streets are open.
The main shopping areas are the Leidsestraat between the Leidseplein and Spui, and the Kalverstraat and Nieuwendijk, leading from the Munt Tower via the Dam to near the Central Station. There are large stores near the Munt Tower (V&D and Hema), and at the Dam (Bijenkorf and Magna Plaza). There is a large supermarket behind the Palace at the Dam, open until 22:00 7 days a week.
The Jordaan and the streets around it contain many small interesting individual shops. The PC Hooftstraat and district, near the museums, contains many of the more chic shops.
There is an interesting daily clothes and second-hand market around the City Hall and Opera (trams 9, 14, 51 to Waterlooplein); there is a busy cosmopolitan food and clothes market in the Albert Cuypstraat (trams 4, 6, 10 and 16). The flower market on the Singel (between the top of the Leidsestraat and the Munt Tower) is not to be missed (trams 1, 2, 4, 5, 9, 11, 14, 16, 24, 25).
Buying food in supermarkets is straightforward, with one exception: buy the milk in blue cartons. The red cartons are buttermilk (karnemelk), which is probably not what you want.
Of course, you want to know where you can buy good chocolate. We recommend Puccini, Singel 184 near the Dam, and Staalstraat 17, near the Opera House, and Unlimited Delicious, Haarlemmerstraat 122.
News
International newspapers can be bought at Central Station and at the three bookshops on the Spui: the Dutch-language Athenaeum and the two English-language-only bookshops Waterstones and The American Book Center.
There are international television stations on the Amsterdam cable, including American, Belgian, British, French, German, Italian, Moroccan, Spanish, and Turkish stations, as well as other satellite channels.
Communications
Telephone
The main post office ('postkantoor') is on the corner of the Singel near the Dam, but there are a number of other smaller post offices; most are closed Saturdays, the main post office is open Saturday morning. The Dutch Telephone Book is online (fill in the name (Wie) and city (Waar) of who you want to look up).
Phoning from a hotel room can be expensive (ask first). There are two main types of telephone boxes on the streets: cash and phone-card. Phone cards can be bought in various denominations from railway stations, tobacconists, post offices and other shops. They are typically good for long distance calls. With cash phones you should insert money before dialling; unused coins are returned at the end of the call. Because of telephone liberalisation, there are now two different companies with telephone boxes on the street; their phone cards are alas not interchangeable. Most cafés have a public phone or will let you phone locally.
To make an international call, dial 00 followed by your country code, then the national area code (usually leaving off an initial 0) and then the local number.
Many countries have a 'Call Direct' service, where a free call in the Netherlands puts you in touch with an operator in your own country where you can then arrange a reversed-charge or credit call. To dial these services, you dial 0800-022 and then a 4 digit code for the country you want. A list of these codes is in the Amsterdam Yellow Pages ('Gouden Gids').
Mobile Telephones
There are 5 national GSM mobile phone networks, so there is good coverage. You need a phone that uses the European 900 and 1800 MHz bands.
You can hire a mobile phone at Schiphol Airport (once you get through customs), or if you have a suitable phone, buy a pre-paid SIM card from telephone shops (there are several on the Rokin) or from a Hema department store..
Hema stores (there's one on the Nieuwendijk near the Dam, and one on the Kalverstraat near the Munt Tower) have one for €10, which includes €3 worth of calls on it. If you have a European phone or a tri-band one, you just stick the SIM in your phone and you've got a working Dutch telephone number! Since it is free to receive calls on mobile phones in Europe (you only pay for outgoing calls), you can leave it on all the time. The outgoing tariff for national calls is around 35 cents, and 10 cents to send an SMS. You buy more prepaid time from the same locations.
Hema also has prepaid cards for cheap international mobile calls (e.g. 3 cents to the USA or UK). You buy a prepaid international card at Hema, phone 020-715 55 55 on your mobile phone, and enter the number on the back of the prepaid card. This couples the card to your phone. After that, you can dial the same number and then the international number you want to phone, followed by a '#'.
Internet
You can get wireless internet access all over the city, at a lot of cafes.
There are also internet phone booths at Schiphol airport, including phone jacks for direct connection of your portable computer, and several internet connection centres, including ethernet connections and WiFi wireless connections.
See the Cybercafe guide for a list of internet cafes.
Places to See
Here is a list of some of the major attractions in Amsterdam. Several places including the Anne Frank House, the Rijksmuseum, the Van Gogh Museum allow you to book online and print your tickets out. This is worth doing, since it allows you to jump the queue for tickets and go straight in, but bear in mind that some only allocate a fixed number of tickets per day, so book early if you can.
The Anne Frank House, Prinsengracht 263 (Westerkerk), 09:00-19:00(summers 21:00), €7.50. The wartime hiding place of the young Jewish girl and her family, finally caught by the Nazis, made famous by Anne Frank's diaries. Not to be missed. Go early, or late, to avoid the queues.
Begijnhof, Spui. Amsterdam has many 'hofjes', courtyards hidden away between houses. The Begijnhof is one of the largest, and well known, but also one of the more surprising: that such an oasis of peace can be so close to the bustling heart of the city. There is a doorway in the row of houses on the Spui that leads you there (if it is closed go right, around the corner to the entrance in the Gedempte Begijnensloot). It has a lovely English church (AD 1400) with pulpit panels designed by Mondriaan, and the oldest house in the city (1475), one of Amsterdam's few surviving wooden houses. Turn left out of the Gedempte Begijnensloot entrance, and it leads you to the Amsterdam Historical Museum and its free gallery of old paintings of city guards in the style of the Nightwatch.
Artis Zoo, Plantage Kerklaan 38-40, 09:00-17:00 (18:00 in Summer), €16. Good aquarium. Also planetarium.
Hortus Horticultural Gardens Plantage Middenlaan 2a (Waterlooplein), 6259021, 09:00(weekends 10:00)-17:00 (21:00 in July/August); €6. Small but nice.
Heineken Brewery, Stadhouderskade 78; 10:00-18:00 (closed Mondays); €10. Used to be a brewery until a few years ago, now a museum and visitors' centre. No unaccompanied children. No reservations. Free beer!
Museums
There are three major museums, the Rijksmuseum, the Stedelijk (modern art) and the Van Gogh. All three are situated around the Museumplein.
Rijksmuseum, Jan Luijkenstraat 1, 9:00-18:00 (Fridays to 20:30); €11 (under 19 free). Large museum containing paintings by some of the Netherlands' great 17th century painters such as Rembrandt, Vermeer and Van Hals. The Nightwatch by Rembrandt is their prize piece. Contains many artefacts as well as paintings. (Currently being renovated, so some parts are closed.) There is also a small branch of the Rijksmuseum at Schiphol airport.
Stedelijk, astonishingly, closed until December 2009.
Van Gogh, Paulus Potterstraat 7, 10:00-18:00 (Friday 22:00); €12.50, 13-17 €2.50, under 13 free. Surprisingly spacious, dedicated to Van Gogh and his contemporaries.
There are many other museums, too many to list here. Interesting ones include:
Rembrandt's House, Jodenbreestraat 4 (Waterlooplein), 10:00-17:00, €8. The 17th century house where Rembrandt lived and worked, restored to its former state. Of particular interest is the ability to buy etches made from copies of Rembrandt's original plates, at quite reasonable prices (about €35).
Amsterdam Historical Museum, Kalverstraat 92 (Spui); 10:00(weekends 11:00)-17:00; €10.
Maritime Museum, Kattenburgerplein 1. Astonishingly, closed for renovations until the end of 2010. However the full-size replica of an old ship, with actors on board acting out the sea life (which is particularly fun for kids) is still open at Nemo, the big green building that looks like a ship just east of Central Station.
Amstelkring Our Lord in the Attic, Oudezijds Voorburgwal 40; 10:00(Sunday 13:00) - 17:00; €7. A 'hidden church' in a canal house in the middle of the red-light district.
Canal trips
Damrak by Central Station, and Rokin by the Spui. It's worth taking one of the canal boat tours to see Amsterdam from the water. They last about 90 minutes, and take you around the city and through the harbour. If you're feeling energetic, you can hire a Canal Bike from one of the several points through the city (Westerkerk, Leidseplein, Leidsestraat, Rijksmuseum), and choose your own route (€8 per person per hour).
What to do on a long layover at Schiphol
There are coach trips for people with a long layover. There is a desk where you can book at the end of pier E.
Otherwise take a train to Central Station, go on a boat trip for an hour, and visit the Anne Frank House.
There is a small branch of the Rijksmuseum between piers E and F.
Kids
Some ideas for where to take the kids: The Anne Frank house of course, a boat trip is always fun, and so are the Canal Bike pedal boats mentioned earlier. The New Metropolis museum is a play science museum for kids. The Zoo, mentioned above. The Maritime Museum mentioned above. The De Mirandabad swimming pool (end of tram line 25) is good for a rainy day, with lots of fun things; Sloterparkbad swimming pool is good for all weathers (end of tramline 14). Madame Tussauds wax museum on the Dam. On the Leidseplein there are always acts like jugglers and fire-eaters that in our experience kids love.
The Pancake Bakery restaurant mentioned above is perfect for taking children.
Trips outside the city
In tulip season (late March to mid-to-late May) flower lovers can take a coach trip to Keukenhof, huge gardens dedicated to tulips. Trips can be booked from companies on the Damrak, or take the train to Leiden, and then bus 54 (Keukenhof Express).
Not far from Amsterdam, in the former Zuiderzee (now the IJsselmeer) is Marken, an island now joined to the mainland by a land bridge. It still has many wooden houses, and you can still see people wearing local costume, not just for tourists. You should at least visit the harbour. There are organised coach tours (companies on the Damrak), but for much less money (six strips of a strippen-card) you can take bus 111 from Central Station (it takes about 45 minutes; times can be got from the public transport telephone information line 0900-9292, €0.70 per minute, or from the Public Transport website: you are going from "CS Oosterdokskade, Amsterdam" to "Kerkbuurt, Marken").
The train to Castricum takes about 25 minutes and costs €9 return. At Castricum station you can hire a bike (phone 0251-654035 to reserve), and in the station restaurant buy a map and a €1 entrance card to kilometers of bike paths through beautiful woodlands, meadows, and dunes, with access to the beach. This is also the filtration area for Amsterdam's drinking water, so you may also see huge carp swimming in the crystal-clear water of the pools.
The national park Hoge Veluwe has beautiful surroundings, and free bikes at the gates to cycle through the grounds. In the middle is the modern art museum Kröller-Müller with a major collection of works by Van Gogh, Seurat, Redon, Braque, Picasso, Juan Gris, Mondriaan and others. There is an excellent statue garden too. Take the train to Ede or Apeldoorn, and then the bus.
There is a group of working windmills you can visit along the river at the Zaanse Schans, as well as museums and a cheese factory you can visit. Take the train to Koog-Zaandijk (about 15 minutes), turn left at the bottom of the steps from the platform, and walk straight on right to the end of the street (about 5 minutes). Turn left, and ahead of you is a windmill at the end of a bridge. As you cross the bridge, you can see the working mills on the left. There is a gate at the end of the bridge, on the left.
More ideas
Tourist offices in the Netherlands are called VVV. The main one in Amsterdam is opposite the Central Station (and with a second office on Platform 1), with a smaller branch at the Leidseplein. There are a number of tour organisers on the Damrak, near Central Station.
What's On
Not surprisingly, there is an immense choice of activities in the city. You can find a list of what's on this week hanging in most cafés, and in newspapers published Wednesday night and Thursday morning. There is a central entertainments information and ticket reservation service called AUB on the Leidseplein. They have a Web Site at www.aub.nl.
Guides. There is an English Language guide to the week's events called What's On. It is published by the VVV and is available in most hotels. Time Out publishes a monthly guide in English, available from newsagents. The local newspaper Parool includes a (Dutch) supplement on Saturdays with what's on for the coming week.
Music. You can find music of all sorts. Pop and rock lovers should check out the multi-media Melkweg, and Paradiso both near the Leidseplein, and the Odeon disco (opposite the end of the Spui) which caters for several tastes. For jazz try the Bimhuis (Piet Heinkade 3, on the Waterfront east from central station). Classical and opera try the Muziektheater at Waterlooplein and the Concertgebouw on Museumplein.
Films. There are more than 50 cinema screens in Amsterdam. This week's films are online, and you will find the list of current films hanging in most cafes. Google has a film search too. With the exception of children's films, non-Dutch films are always subtitled, so you can always see films in your own language. Children's films will be marked "NL" when dubbed in Dutch and "OV" when it is the original version. Films are age-rated as AL (all ages), 6, 9, 12 or 16. Ratings 6 and 9 are just advice: you can decide whether to take a younger child to such films. The ratings 12 and 16 are however enforced if the child goes to the film alone, though according to the rating organisation "In the case of cinemas, an exception applies to children one or two years younger than the 12 or 16 years age limits, who may be admitted if they are accompanied by a parent." You can find ratings here. There are many cinemas around the Leidseplein and the Rembrandtplein; Fridays and Saturdays you should buy your ticket early – you can do this by telephone if you want, if they answer the phone; some let you reserve online. There are two magnificent art deco cinemas you should try not to miss: Tuschinski near the Rembrandtplein (screen 1 is the most impressive), and The Movies on the Haarlemmerstraat near the Jordaan, which has a good restaurant too, and offers a special 'film dinner' for around €30 (not Fridays and Saturdays), which includes reserved seats for the film (telephone 6267069).
The Amsterdam Year
1 January

New Year Celebrations. There is a huge celebration on the Dam, and the Nieuwmarkt is a good area to be too, but at midnight it won't matter where you are in the city, because it is a riot of fireworks everywhere for about an hour. Most shops, museums and so on will be closed in the 1st.

January

The Sunday before schools restart: ritual burning of the Christmas trees, Museumplein. Just before sunset people arrive bringing their Christmas trees, and at about 17:00 they are set alight, accompanied by a brass band and hot chocolate.

February/March

Carnival (Mardi Gras). Amsterdam doesn't celebrate carnival much; Amsterdammers who want to have Carnival fun take the train to Maastricht, and party 3 days long there.

30 April (29 April if the 30th is a Sunday)

Queen's Day. The one day of the year not to miss in Amsterdam. The whole city is out on the streets for 24 hours partying. If you are planning to leave Amsterdam on this day, allow extra time, because no traffic runs in the centre of town. Better still, stay and enjoy the fun, and leave the next day. Starts at midnight, so you can start having fun the evening before.

5 May

Liberation Day marking the end of World War II. There is usually a small-scale (compared to Queen's Day) festival in the Vondelpark near Leidseplein.

Late May/Early June (Whitsun)

Jordaan Open Studios: Many artists who live in the Jordaan open their doors to exhibit their work. Also a great chance to see inside Jordaan houses. Participating studios hang a large flag outside the house.
Luilak. You'll probably miss this one: a tradition from at least the 16th century, on the Saturday before Whitsun children rise early (typically starting at 4 a.m.) and go on the street and make lots of noise.

June

Holland Festival: four weeks of cultural activities.

Early August

Gay Pride: the canal procession is particularly fun and impressive.

Mid August

Grachten festival: a week long of concerts in interesting locations along the canals, ending with a waterside concert on the Prinsengracht.

Last weekend in August

Uitmarkt. Mostly aimed at residents, this is a weekend-long festival from Friday evening, intended to inform people about the events of the coming cultural year. However there are plenty of free concerts throughout the weekend. Try to grab a copy of the program beforehand in order to plan which to go to.

Early September

Open Monument Day: a number of interesting listed buildings that are not normally open to the public are opened for the day.

September

Jordaan Festival: the old working-class district of the centre celebrates its musical traditions.
Car-free Sunday: Cars can get out of the city, but are not admitted into the city from the ring road from 10:00 to 17:00. Lots of street parties and events are organised. If you think there are lots of bicycles in Amsterdam, wait until you see car-free Sunday!

11 November

Sint Maarten Eve. Head over to the Jordaan, for instance the Eerste Leliedwarsstraat, promptly at sunset where you will find hundreds of children going from house to house singing songs in exchange for sweets. The parents meanwhile create their own party on the street.

2nd or 3rd Sunday in November

Sinterklaas visits Amsterdam. In the Netherlands Santa Claus and Father Christmas are two different people, and it is a rather stern Santa Claus, still in red with a white beard but dressed as a bishop, who traditionally brings children gifts. Having sailed from Spain he arrives in the Netherlands on his steamboat on the second or third Saturday in November. The next day he makes his traditional visit to Amsterdam (since he is the patron saint of children, Amsterdam, sailors and prostitutes amongst others, this is of course a very special event). He arrives in his boat at the Maritime museum at around midday, and then follows in procession a route via the Dam to the Leidseplein.

5 December

Sinterklaas eve, the evening that SInterklaas brings presents to children. Shops will close early so that everyone can get home in time for the celebrations, and you will probably see Sinterklaas in the day travelling through the town with one or more of his helpers called Zwarte Piet.

December

Nutcracker (or other child-oriented ballet) performed by the National Ballet. A traditional performance each year at the Amsterdam Opera House. Ideal to take the children to.

25 December

Because presents are exchanged on 5 December, Christmas is more relaxed in the Netherlands than in some other countries. Most shops will be closed, but you will find restaurants and bars that are still open, and the transport system will be running a Sunday service rather than shutting right down as it does in some countries.
Maps
Openstreetmap is a sort of Wikipedia creating a free streetmap of the world that anyone can edit. Although most countries' maps are still incomplete, a company donated the complete map of the Netherlands to the project, and so their map of Amsterdam is excellent.
Google maps includes Amsterdam.
The City has an interactive map that allows you to search for an address and zoom right in to the house boundaries, and lets you overlay the map onto aerial photos of the area, search for historical photos in the archives that match the search, and on and on...
If you look a business up in De Gouden Gids, clicking on "kaart" gives you a zoomable, pannable map. For instance, here is The Anne Frank House.
A map of Amsterdam Centre.
An overview of postcodes in Amsterdam Centre.
Searchable map of the Netherlands (by Postcode, City/Street, Person, or Topic).
Books
For more information there are many tourist books. Amazon has a page of books on Amsterdam ordered by popularity. In Europe, Amazon.co.uk has a similar page. Good books include The Time Out Guide (Europe, USA), Eyewitness Amsterdam (Europe, USA), Lonely Planet (Europe, USA), and the Rough Guide (Europe, USA). There is also a section on the city in the Amsterdam Yellow Pages phone book ('Gouden Gids').
Other Resources
More on Amsterdam
Email help
Other useful resources (some only in Dutch)
---
© Copyright 1993-2010 Steven Pemberton and Astrid Kerssens. All rights reserved.
Last modified: 2010-05-29
URL: http://www.cwi.nl/~steven/amsterdam.html
Contact: Steven.Pemberton@cwi.nl, but please bear in mind we are not a tourist service!
Please don't ask about hotels.

VVV Amsterdam (The Amsterdam Tourist Office) has an email address: info@amsterdamtourist.nl

---
About this guide
All addresses mentioned are personal choices of the authors. There are no paid entries.
The link to the list of books about Amsterdam is in association with Amazon.com and Amazon.co.uk.
The guide has been designed to print out and take with you. You need this information when you're in Amsterdam, not when you're behind your screen!
When printed, this guide is about 15 pages long. If you get lots more pages, then your printer is not set up right; please don't blame us! Go to 'File>Page Setup' to make the margins smaller, and 'View>Text size' to make the font size smaller.
We have avoided all browser-specific markup or proprietary formats like Flash that would prevent some people from being able to see this guide. The web is for everyone! We have used CSS, but that doesn't prevent non-CSS browsers from seeing this page.
Most addresses are in the central part of Amsterdam. To be mentioned, restaurants must be good, reasonably priced, in the centre of Amsterdam and offer at least one vegetarian dish (and they must not put "service not included" on the bill!)
The prices and opening times are a guideline; we can't guarantee any of the information here. We're happy to receive corrections or ideas for additions.
See also London.