W3C Working Group Meetings, Amsterdam June 2001
Forms
HTML
Meeting place and times
Reception and meal
Contacting Steven
Information about Amsterdam
How to get to the locations


CWI

Dates: 18, 19, 20 June
Group dinner: Wednesday evening (Sponsor sought)
Dates: 21, 22 June
Group dinner: Wednesday evening, sponsored by Quark.
All meetings are from 9:00 to 17:00, at CWI, Kruislaan 413, in the main building. There will be no breakfast at CWI: make sure you eat at your hotel. There will be coffee on arrival (with biscuits) and mid-morning. Lunch will be for an hour at 13:00.
There will be a reception at 17:00 (5pm) on Wednesday at CWI for all Forms, HTML and WAI group members. We will then travel (under our own power) to the city centre for a meal.
Steven's mobile number is 0624 671 668 (+31 624 671 668).
The Internet Guide to Amsterdam gives information about how to use transport, where to eat and drink, and where to go.
Address: Kruislaan 413, 1098 SJ
CWI is easiest to reach by taking tram 9 from the centre to the Kruislaan, and then walking about 10 minutes.
Bus 67 runs from Amstel station to the CWI (the stop is called WCW/Amsterdam Science Park).
A cab from the centre will cost f40-f50 ($US 1 ~= f2.45).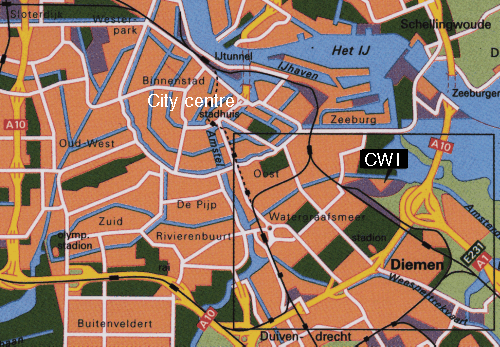 CWI in relation to the city centre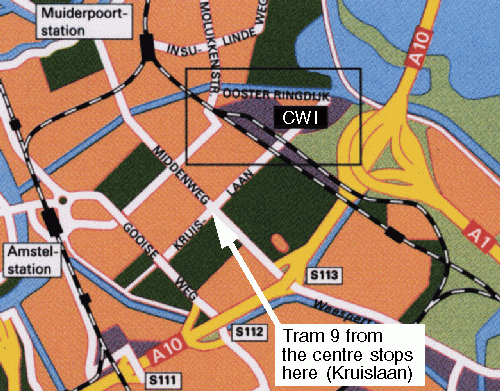 Where tram 9 stops


How to walk from the tram stop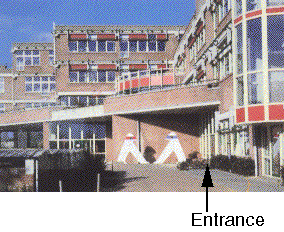 CWI entrance
---
Steven Pemberton Last modified: Thu Jun 14 14:50:15 CEST 2001