Brad Weed
---
Interaction design more closely parallels industrial design than graphic design. Graphic design is an important part of the process of software interaction design. But it is often seen as the primary contribution of designers to software design, mostly because most interaction design is still done in large part by engineers and/or human factors specialists. However, the rise of interaction design as a formal discipline in the software industry is imminent. And as interaction design matures, it will learn more from and more closely resemble industrial design. Graphic design, while rich in history, has less to offer in the way of human interaction and the incorporation of engineering constraints. Industrial design, on the other hand, is grounded in the principles surrounding human factors, engineering, manufacturing processes, marketing, and aesthetics. These same principles are also shared by the technology industry in the design of software.
Industrial design is the process of producing useful, usable, and desirable products. Professional industrial design started in the late 1920s at the tail end of the post war consumer boom. Rich with increased capital investment, America saw a boost in productivity and a renewed emphasis on efficient production methods and new materials. Advertising was also on the rise and the visual image became an increasingly important sales tool. As a result, focus on a product's visual form aided in boosting sales.
With the onset of the recession in 1927, small companies were forced out of business while others merged to form larger companies. By the time of the Wall Street Crash in 1929, those surviving companies found themselves in highly competitive and saturated markets. It was this intense economic climate that produced the industrial design profession. "Industrial design was born of a lucky conjunction of a saturated market, which forced manufacturers to distinguish their products from others, and a new machine style, which provided motifs easily applied by designers and recognized by a sensitized public as `modern'."(1) These designers came from a variety of backgrounds, such as advertising, commercial art, exhibits, and stage design, where they were accustomed to working as a team in a commercial environment and often with a multitude of clients. Much of their previous work involved identifying constraints, weighing competing ideas, and deciding on optimal solutions. This experience lends itself nicely to the work relating to industrial design. As glamorous as it may be portrayed, its origins are more humble.
While it is true that the term industrial design came into fruition in the 1920s, specialist designers and craftsman date back to the eighteenth century to Josiah Wedgwood's English pottery manufacturing. What set the new industrial designers apart from the Wedgwood modellers were the products they designed and the ideas they produced. Where the work of Wedgwood enabled and improved mass production of well-established household furnishings, the new industrial designers were called to design `new' objects, like cameras, refrigerators, radios, and automobiles. As we approach the new millennium, software and computer-related products are quickly becoming the new `new' objects of design.
The distinct pioneers of professional industrial design are Raymond Loewy, Henry Dreyfuss, and Walter Dorwin Teague. Raymond Loewy is probably the most famous of the three designers. Loewy came to America from France after World War I as a painter, illustrator, and display designer. His first major contribution to industry was his redesign of the 1929 Gestetner duplicating machine. Skeptical of an artist's contribution to machine design, Sigmund Gestetner gave Loewy three days to redesign his duplicating machine. With such little time, Loewy was restricted to a cosmetic overhaul. His solution was to encase the mechanical elements of the machine in a wooden cabinet. "Upon agreement, Loewy purchased one hundred dollars worth of Plasticine clay, spread a tarpaulin on the floor of his small living room, covered the original machine with clay, and reshaped it into a handsome cabinet that concealed all of the mechanisms except the operating controls. In effect Loewy transformed the product from a collection of mechanisms into a piece of office furniture."(2) What was thought to be a simple face-lift to a complex old machine turned out to be a huge success. The Gestetner corporate image was rejuvenated, Gestetner continued to employ Loewy, and the predominantly aesthetic redesign maintained its integrity until the machine's extinction in the 1950s. While this job served as a launch pad for Loewy's career, it wasn't his most significant contribution to design. He went on to design many products that had a huge impact on corporations and markets. In 1936 Loewy was hired by Sears, Roebuck and Company to redesign their Coldspot refrigerator. Taking clues from his previous work with Gestetner as well as the automobile industry, Loewy formed the Coldspot into a sleek streamlined shape. After the Loewy redesign, the Coldspot increased its yearly sales from 60,000 to 275,000. The press cited Loewy's contribution as proof of the efficacy of industrial design to improve sales. Loewy went on to design a variety of other products like the Studebaker and the Avanti sports car. Loewy also made broad contribution to the package design market. He was responsible for the design of many well know images and products such as: LU biscuits logo and packet, Exxon, British Petroleum Co., Shell Oil, and International Harvester logos, Lucky Strike cigarette packaging, and a host of other containers, chairs, radios, appliances, pens and even trains. Loewy's contributions were so wide-spread that the cover of the October 31, 1949 Time Magazine proclaimed below his picture, `DESIGNER RAYMOND LOEWY He streamlines the sales curve.'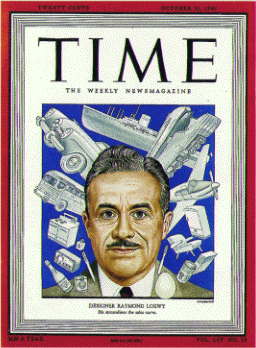 Another pioneer of the industrial design profession was Walter Dorwin Teague. Teague started out as a graphic artist and in the 1920s began moving away from two-dimensional graphics toward three-dimensional design. His first major break as an industrial designer was in 1927 when he was hired by Kodak to design cameras and packaging. His first project introduced the first fashion camera called the `Vanity Kodak'. It came in a wide range of color and chrome-plated trim. While this was primarily an aesthetic accomplishment, Teague's future contributions were more technically involved. He is probably best known for his ability to integrate design solutions into the manufacturing process. In 1936 he designed the `Bantam Special', a small hand-held camera with simple basic use features. The camera incorporated horizontal rows of metal strips that appear to be mostly decorative. These strips not only add to the camera's styling, but also reduced the risk of chipping and cracking by limiting the amount of surface area needed for the lacquer coating. Teague's ability to take production and technical constraints and turn them into solutions landed him a job at Kodak for life.
A third major pioneer in the industrial design profession was Henry Dreyfuss. In 1929, Dreyfuss left his profession as a stage designer and opened his own industrial design office. One year later, Bell Telephone Company offered one thousand dollars to ten artists to come up with ideas for future telephones; Henry Dreyfuss was one of them. Dreyfuss initially declined on the basis that speculating on the external form of a phone is worthless. He insisted he work in conjunction with Bell's engineers to design `from the inside out'. Fearing Dreyfuss would be compromised by the realities of engineering, Bell refused to allow him to work this way. Upon receiving work from others that proved to be impossible to build, they decided to retain Dreyfuss to work his own way and what resulted is basically the same phone we all use today. Bell introduced the handset in 1927, but it was Dreyfuss' combined handset that became the standard from 1937 on. His phone design was in production until 1950, but practically every phone since then has been modeled after it. The design used 1940s plastic, allowing for easy molding. Its elements were reduced to a minimum so it was easy to use, fix, and clean. It was necessary that the phone be simple in styling and not too trendy. The telephone market in those days was not highly competitive, so if someone were to invest in a phone, it was likely to be around for a long time. Dreyfuss iterated countless times on the design of this phone. Working with Bell engineers, they methodically studied and tested the phone with scores of people. Dreyfuss' many measurements and studies of humans and machines led to his book, The Measure of Man. His work made enormous contributions to the introduction of the applied science of ergonomics. Dreyfuss continued to be commissioned by Bell and went on to also work for John Deere and other large equipment manufacturers on comfortable and ergonomically correct driving environments. Dreyfuss' attention to reducing the tension between man and machine led to his widespread success.
What is most interesting about these three pioneers of industrial design is their unique contributions to the discipline of design. Loewy was skilled in incorporating marketing constraints and making products desirable. Teague was skilled at incorporating engineering constraints and making products useful. And Dreyfuss was skilled at incorporating human constraints and making products usable. These three elements: desirability, usefulness, and usability, lead not only to the creation of great physical consumer products, but also to the creation of great software products.
Interaction design is the process of producing useful, usable, and desirable software products. Interaction design and industrial design have many similarities. Much like professional industrial design, interaction design takes technology constraints identified by engineers, human constraints identified by human factors professionals, and market constraints identified by marketers, and builds solutions to user problems that fit within those constraints. The major difference between traditional industrial design and software interaction design is in the material used to design. Where industrial designers use physical three-dimensional materials to build forms that communicate function, software interaction designers manipulate graphics on computer displays to communicate function. Currently, most software is limited to physical interaction via the mouse and keyboard. However, in the future, hardware augmented interaction design through multi-modal input devices will becoming increasingly viable. This is especially true as televisions, computers, telephones, and other information appliances merge both in terms of content and physical form. Until then, the bulk of a computer user's time is occupied by traditional software products like word processors, spreadsheets, email editors, personal information managers, and personal finance software. The mouse and keyboard act as the primary means of input and the graphical user interface acts as the primary communication device between user and machine. Interaction design uses the graphical user interface as a way to visually communicate the technology that enables people to achieve complex tasks through the available input devices.
Because communication is limited to graphics and text on a two-dimensional computer screen, interaction design is often considered more closely related to the field of graphic design. Current literature and dialog from the software community surrounding interaction design usually relate it to graphic design. One reason for this comparison is, historically, graphic designers have been brought in near the end of a project to design alert screens, lay out dialogs, and illustrate icons. While this is a necessary and important element of design, it is only part of interaction design. The design of icons and other graphics associated with a software product is akin to the graphic design of labels and iconography on a copying machine, camera, or vending machine. Again, this is a needed part of design, but it is only one step in a more complex design process. Industrial designers from well-established consumer product industries are involved in product design from the beginning and are as entrenched in the corporate culture as engineering and marketing. At Kodak, for example, design continues to play a crucial role in the development of their products. Kodak's CEO, George Fisher recently commented, "Rudy Krolopp's (director of industrial design) ability to conceptualize what might be possible really drove some very good circuit designers and mechanical engineers to bring [the MicroTac] vision to fruition. Rudy had enough credibility with all of us to gain our support."(3) In software today, the early design and conception is largely being done by engineers or those with engineering backgrounds, just like the days before Loewy, Teague, and Dreyfuss. Few software products are designed with the equivalent of today's industrial designer. This is a trend capable of ending with the rise of interaction design as a formal profession.
While graphic design is only part of the process, it still tends to command more attention than industrial design from the software community. Much of this is brought on from the GUI world and its proliferation of icons and dialog boxes, but most of it is from the nature of the multimedia industry. Graphic design is generally more accepted in the field of multimedia because it involves the design of content, an area admittedly not in the jurisdiction of an engineer. An engineer is more likely to relinquish control of the design of a multimedia title because they know their traditional training would not yield the same level of sophistication a graphic design professional could. Since multimedia design is so often marketed and sold as a competitor or companion to magazines, video, and glossy coffee table books, the quality of imagery and content must match or exceed that of these traditional media. Consequently, graphic designers are typically in high demand to design and produce multimedia titles. But while it is somewhat easy for the multimedia industry to make the case for including graphic designers in the design of multimedia titles, traditional productivity software products still mostly draw on designers for icons and dialog boxes and screen layout.
Productivity software products are the tools that enable people to work and create and are not unlike traditional tools of productivity, like screwdrivers, copying machines, fork lifts, or farm machinery. The motives and activities surrounding productivity are different from multimedia where the primary activity is browsing and reading. It is no surprise that multimedia design follows, to a large degree, in the path of traditional graphic design where the primary user interaction is navigation and not creation. Interaction design, like traditional industrial design, focuses on the creation of usable, useful, and desirable products that enable people to work, think, and create through their interactions with technology. Because most computer users use their computers to run productivity software -- an industry with relatively little influence from professional designers -- a huge opportunity exists for industrial designers in the interaction design of traditional software products.
More and more industrial designers are making the connection with interaction design, but in fewer numbers than graphic designers. Many make the leap while designing input devices or personal digital assistants, but many others choose to remain true to three-dimensional form. Nevertheless, industrial design is often overlooked as a natural parallel to interaction design. One reason for this is because multimedia design steals the limelight from interaction design. There are just fewer examples of relatively glamorous productivity software to talk about, read about and display in magazines and journals. Another, more alarming, reason can be found at many universities and art schools. Visit just about any university design department and ask where you can study computer interaction design and you will be led either to the computer lab where student are doing traditional design projects online or to the computer science department. In many cases, you may also find yourself in a whirlwind of political debate between the industrial and graphic design faculty over just where interaction design should be taught. The truth is, skills, knowledge, and experience in both graphic design and industrial design are necessary to do good interaction design. Nonetheless, industrial design does cover more areas pertaining to the design of interactive software than graphic design. While most industrial design courses include issues surrounding ergonomics and engineering, few graphic design departments incorporate human and engineering constraints in their projects. In the end, each department has what the other needs to properly equip students with what it takes to be a good interaction designer. To allow interaction design to flourish in the software market, it is essential that we educate and train designers not only for the graphic design-dominant multimedia market, but also for the interaction-dominant productivity software market.
Raymond Loewy, Henry Dreyfuss, and Walter Dorwin Teague adapted their general knowledge and experience of the arts as well as their individual skills in aesthetics, human factors, and engineering to their new industrial world. Today's designers must also adapt their appropriate backgrounds and skills to our new technological world. While multimedia design is growing with every new web site, we must not lose sight of traditional software and the opportunity it holds for future interaction designers. Just as the early pioneers of industrial design struggled amidst the armies of engineers to make industrial products usable, useful, and desirable, so too must the designers of the software industry strive to make software products usable, useful, and desirable. Not long before Loewy's death nearly a decade ago, he had "recognized the possibilities of `software-design'". Could it be he had already counted on the parallel between industrial design and interaction design? With increased interest in interaction design, the formation of curricula addressing interaction design, and the building of interaction design teams around the world, interaction design is poised and ready to become an established discipline. Just as the industrial revolution helped form the discipline of industrial design, the technological revolution is helping form interaction design: the industrial design of the software industry.
Jeffrey Meikle, Twentieth Century Limited, Philadelphia, 1979, p.39
Schönberger, Angela (editor), Raymond Loewy. Pioneer of American Industrial Design. Prestel-Verlag, Munich, 1990, p 232, 75, 36
Delphine Hirasuna (editor), Kodak CEO George Fisher on Design: The Journal of Business and Design, Volume 1, No.1, p 4Forty, Adrian, Objects of Desire: Design and Society Since 1750. Thames and Hudson, New York, New York, 1992.
Brad Weed is a product design manager in the desktop applications division at Microsoft where he manages a team of interaction designers. Working closely with usability, program management, development, and marketing they strive to make their productivity applications more usable, useful, and desirable. As a design manager, Brad also evangelizes interaction design as a formal discipline to his division and company. In the course of his pilgrimage, he has found industrial design to be a useful parallel to draw, given its roots and history. He is also writing from his experience in working with industrial designers turned interaction designers. This essay details Brad's rationale and insights behind interaction as the industrial design of the software industry.
Brad Weed
Microsoft Corporation
One Microsoft Way
Redmond, WA 98052, USA
bradwe@microsoft.com
+1-(206) 936-4731
Visual Interaction Design is a Special Interest Area of SIGCHI that focuses on the visual aspects of interaction in interface design. The goals of the Visual Interaction Design Special Interest Area are to act as a focal point for visual interaction design interest within SIGCHI, to advance visual interaction design as an integral component of HCI, and to integrate visual interaction design with the rest of SIGCHI.
To contribute information to this column, send email to wadlow.chi@xerox.com or write to Maria G. Wadlow, Transarc Corporation, The Gulf Tower, 707 Grant Street, Pittsburgh, PA 15219, USA
To subscribe to the Visual Interaction Design ListServ group, send email to LISTSERV@VTVM1.CC.VT.EDU with the single line:
subscribe VISUAL-L <your full name>
in the body. To unsubscribe, send mail to the same address with the single line
signoff VISUAL-L
in the body. To communicate with members of the Visual Interaction Design community, send email to VISUAL-L@VTVM1.CC.VT.EDU .
Maria Wadlow is a technical writer and user advocate for Transarc Corporation and is the founder of Pyxíon Studios, a consulting company that specializes in interface design.